Event details
In other words, remember to use . Enjoy!
Here's my thinking: With the simplest setup, the phone is acting as a client. The server has already provided a DHCP address to the phone; if it's getting other requests from what it sees as the same client it won't do anything as the current lease is still valid - it has to know the client is actually acting as a router/gateway, and service the other requests appropriately.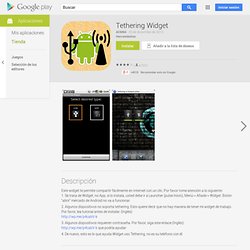 To send mobile hotspot traffic over my VPN, I had to use an app called .
Many Android users (myself included) have long found it annoying that creating a working portable hotspot is not possible while using a VPN on the device that shares the connection. From the user interface to the lines of code that power the app behind it, a driving principle of designing Freedome has always been to make the kind of VPN that only makes your online experience better, without hindering it in any way.
This is why we are extremely happy – both android tethering over vpn personally and for our users – to announce that our new Android release (out now on ) makes it possible to have Freedome turned on while sharing your connection with other devices. We are also the first (as far as we know) major VPN provider to make this happen.
Hi again . Btw, thank you for pointing out how to exclude the address in OpenVPN. I tried it and it works great! My devices are now connecting. You guys are awesome. I bet I need to move to OpenVPN instead of other vpn apps, until I figure the solution for those.
Right, in plain hotspot mode clients will get an IP address from the phone's DHCP server. However, when the OpenVPN client is running, by default it is redirecting all traffic to the OpenVPN server, meaning any client traffic is also being redirected. Hence, the clients aren't talking to the phone's DHCP server any more - they are talking to the OpenVPN server, and if that doesn't provide an IP address via DCHP then the clients connection attempts will "hang".
When enabled, a separate 'dial-up network' is created specifically for tethering. This would allow tethering to be active while the standard network device has an active OpenVPN connection - they are using separate network devices.
However - if the phone acts as a gateway to the OpenVPN network for its hotspot clients, everything should work - instead of clients being given an IP address by the phone, they will be given an address by the OpenVPN server.
This has already been covered. Read from the VPN.
All I can say that it works on Nexus devices out of the box.
With some custom ROMs (and possibly AOSP?), , so tethering and normal data use the same network device. With VPN active the tethered device can't obtain an IP address from the phone.
The VPN app has to implement this. If not you would need root for that and (very) good understanding of ip rules and iptables to figure out how to manipulate the policy based routing to achieve that. But I cannot help you with that either since my phones are not rooted.
I tried to exclude the 192.168.42.0/24 but got no luck. The device can't get an IP address from my hotspot. I have to disconnect from my VPN, connect the other device to my hotspot, and then reconnect the VPN. This way it works. But if the VPN is connected, the device trying to connect to my hotspot can't get an IP address